Report an issue, register for an event, or submit a request at a time of your choosing. As a service provider you want to make it simple and accessible for your customers. That's why the smart form builder SIMform is an essential tool in your digital, interactive service.
What is SIMform?
SIMform is an smart form builder with many useful features. You can easily build an online form, no coding nessesary! Drag-and-drop exising fields, or customize new ones specifically for your organization. It is possible to export the gathered data, and also reuse a fix set of questions. In addition, SIMform meets the digital accessibility requirements and can be used on any device. With SIMform you are ready for the future.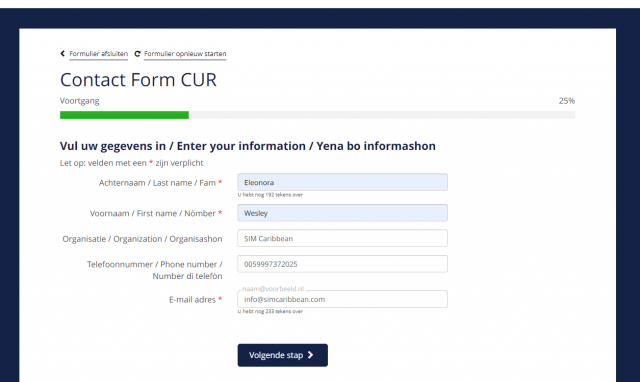 For the visitor
The forms are responsive and can therefore be completed on desktop, tablets and mobile phones.
The progress (percentage) is visible when filling out a form.
Forms are secured, so that the entered data is sent encrypted.
Submitted forms can be downloaded/printed for your own records.
After logging in with digital identification (i.e. DigiD), available personal data is automatically loaded into the form. In this case, forms can be saved so that the user can continue at a later time.
For the webmaster
Forms are easy to build without any coding knowledge.
Forms and question sets can be easily duplicated and modified.
Completed forms can be e-mailed directly to specific departments within the organization.
Use decision trees to optimize and shorten forms.
Various element types to choose from, such as text field, date field, dropdown option, radio button, add attachments, etc. And conditions for each field, such as mandatory field, default value, maximum number of characters.
Forms are secured via SSL/PKI certificates to encrypt the entered data.
SIM monitor provides clear data analysis
SIMmonitor is an extension to SIMform. This rock-solid combination ensures continuous improvement and further optimization of digital services based on factual data. Privacy is an important element in this. SIMmonitor does not share any form content and users' IP addresses are also encrypted. The application will only monitor process information.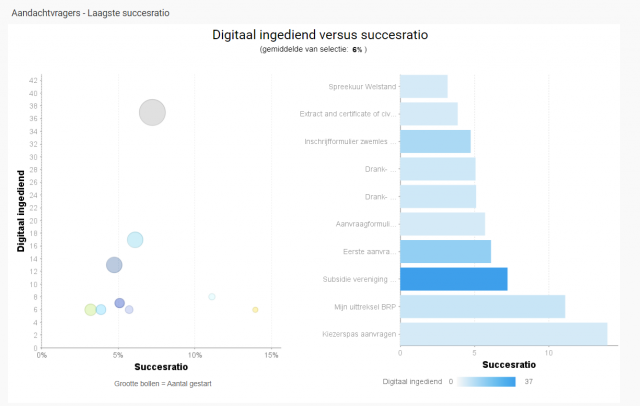 Improve based on data
This tool gives you insight into, for example, the filling behavior and use of a form. When and why do people drop out at a certain point on a form? What is the reason for clicking up and down between questions? When implementing SIMmonitor, our consultant will give you targeted training to analyse and take the right decicions based on the data. This way you know exactly what you can do to improve a form, and thus the digital services, based on this data insights.