With SIM Open Social, SIMgroup's social intranet powered by Open Social(external link), online collaboration, participation, and exchanging information becomes a piece of cake. This social platform helps you to easily stay in touch with other colleagues/community members, and share knowledge regardless of location and time. Thanks to the robust basis and optional extensions for this engagement platform, you can apply SIM Open Social to small and large organizations.
How does it work?
SIM Open Social is the central place for communication between all employees in your organization or community members. Share important messages on the timeline, connect with different colleagues and collaborate digitally on internal subjects. You'll have fast and secured access to the correct information in a user-friendly environment. Some features:  
Activity Streams (Timeline) - Activity streams chronologically display activities of a group, member, or the whole community.
Comments - Members can provide comments on various community content.
Groups - Members can create and join public, open, and closed groups.
Personal Profile - Members can share and manage profile streams, profile photos and banners, account information, and their events, topics, and groups.
Email Notifications - Members can receive and choose the frequency of email notifications about community activity.
Push notifications - Members can choose to receive push notifications about community activity.
Private Messaging - Members can send private messages to a member or a group of members.
Events - Members can create, organize, and manage events.
Why choose SIM Open Social?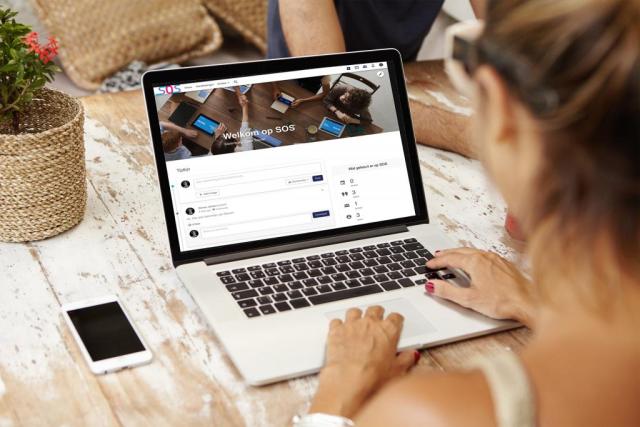 Developed for communities
SIM Open Social is suitable for your organization. SIM has been a partner of various service providers for 10 years. We have incorporated the experiences and knowledge we have gained to introduce a social platform that meets the requirements and wishes of local authorities.  
Drupal open source
This new social platform is based on the open source platform Drupal. With  Drupal 9 as the engine, continuity and future-proofness is guaranteed.  
Participation options
As a local authority, do you want more interaction with citizens and entrepreneurs? With this social platform you're all set! It can be extended with various smart modules to encourage collaboration on this easy-to-use participation platform.   
Boost the productivity of your members with Microsoft 365 integration
Is your organization already using Teams, Word, OneDrive, Outlook or another Microsoft 365 tool? Bring your organization members together online with a fully integrated online community.
Integrate workflows with your community platform
Ensure your data syncs automatically between Microsoft tools and your online community
Enable Teams video calling and messaging in your community
Add Dashboard blocks with relevant content from Microsoft products
Increase productivity and streamline workflows
Integrating your workplace tools with your online community lets you create a collaborative platform that lets members socialize while working together.
Microsoft 365 is the preferred suite for businesses and organizations everywhere. Open Social can help you integrate your online community with a range of Microsoft 365 services including: Outlook, Teams, video calling, calendars, Sharepoint, Yammer and more.
Flying start
We will help you step by step to setup the platform and support the organization and ensure that everyone is aligned. The Active Directory connection makes it a piece of cake for the administrator of the social intranet platform to manage members' access. In addition, the environment is easy to personalize.
A flying start is guaranteed! Request a free demo!